Attractions
Fort Collins and LaPorte are within an easy drive to many of Colorado's major attractions. Take a chance to explore this beautiful mountain state! 
Rocky Mountain National Park, one of our nation's most popular national parks, is located just 35 miles from Fort Collins.
Rocky Mountain National Park covers 410 square miles and includes 18 named peaks above 13,000 feet, 150 named lakes, and the highest continually paved highway in the U.S. – Trail Ridge Road. The road is usually open from Memorial Day until early October. However, the park is open year round and lower elevation roads are open during the winter.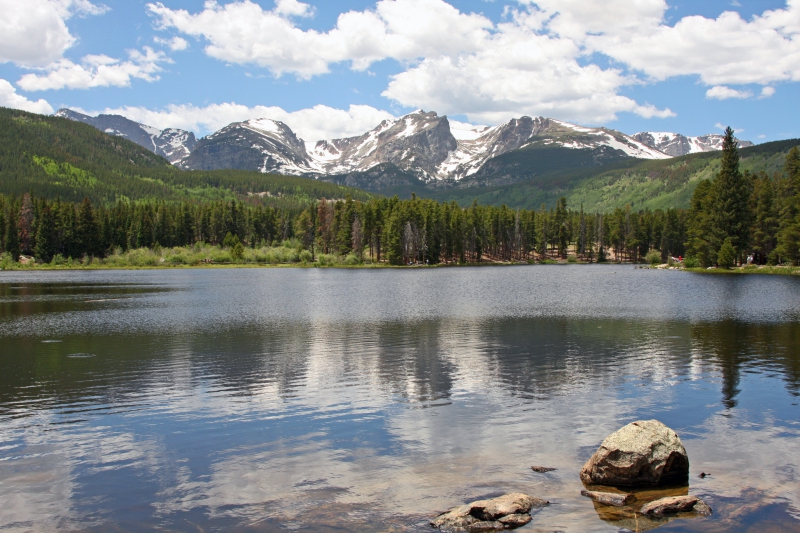 Colorado Monuments & Historical Sites
Bent's Old Fort National Historic Site
Black Canyon Of The Gunnison National Park
California National Historic Trail
Colorado National Monument
Curecanti National Recreation Area
Dinosaur National Monument
Florissant Fossil Beds National Monument
Great Sand Dunes National Monument & Preserve
Mesa Verde National Park
Pony Express National Historic Trail
Rocky Mountain National Park
Sand Creek Massacre National Historic Site
Santa Fe National Historic Trail
Yucca House National Monument
Colorado Ski Areas
(2-4 Hours Away)
Arapahoe Basin
Aspen Highlands
Aspen Snowmass
Beaver Creek
Breckenridge
Buttermilk
Cooper
Copper Mountain
Eldora
Keystone
Loveland
SolVista
Steamboat
Vail
Winter Park

Weekend Getaways
Boulder, Colorado
Denver, Colorado 
Cheyenne, Wyoming  
Colorado Springs, Colorado  
Vail, Colorado  
Aspen, Colorado  
Fort Collins Attractions
Anheuser-Busch Tour Center
2351 Busch Drive  (Mountain Vista exit off I-25)
Phone: (970) 490-4691
Complimentary brewery tours.
Learn about the Budweiser brewing process and see the world-famous Budweiser Clydesdales. Gift shop open year-round. Open June-Aug: daily 9:30am-5pm; Sept: daily 10am-4pm;Oct-May: Thu-Mon, 10am-4pm. Clydesdale Camera Day from 1-3pm on the first Saturday of each month.
Avery House Historic District
328 W. Mountain Avenue
(near Old Town),
Phone: (970) 221-0533
Listed on the National Register of Historic Places. The home of Franklin & Sara Avery, built in 1879. Open Sun & Wed from 1-3pm and by group appointment. Call about the Victorian Teas.
City Park Railway
1599 City Park Drive
Phone: (970) 416-2990
A miniature train that runs during the summer. Admission: $1.50. Available for party rental.
Colorado Welcome Center
3745 East Prospect Road #105
Phone: (970) 491-3388
Come and find out what Colorado has to offer. Brochures, maps, and guides to help you plan your vacation.
CSU Environmental Learning Center
3745 East Prospect Road #205
Phone: (970) 491-1661
Fax: (970) 491-5883
CSU's ELC is one of the last remaining undeveloped riparian woodlands along the Poudre River. The visitor center houses interpretive displays designed by youth rangers. (Visitor Center open by request.) Trails open daily, dawn to dusk. Guided group tours upon request. Free.
Fort Collins Museum & Discovery Science Center
200 Mathews Street
Phone: (970) 221-6738
Email: info@fcmdsc.org
The museum is currently closed as they are moving their location to the corner of Mason and Cherry Streets in downtown Fort Collins. The expected re-opening is summer 2012!
The Farm at Lee Martinez Park
600 N. Sherwood Street (near Old Town)
Phone: (970) 221-6665
A trip to The Farm provides a unique outing for people of all ages! Featuring farm animals, museum, Silo Store, hayrides and pony rides (fee required). Ask about children's classes and programs. Party rentals available. Call for hours. Admission: Free
Fort Collins Municipal Railway
P.O. Box 635, 80522
Phone: (970) 482-8246
Runs from City Park to Downtown. Car 21 is the only original restored city streetcar operation in the western U.S. In operation since 1985. Entirely restored and operated by volunteers. Open May-September, Weekends and Holidays, 12 noon – 5pm. Last trip leaves City Park at 4:35pm. Admission: Adults – $1, Seniors – $0.75, Children 12 & under – $0.50.
Fort Fun
1513 E. Mulberry
Phone: (970) 472-8000
Sun-Thur: 10am – 10pm; Fri-Sat: 10am-12pm. The ultimate family amusement experience. Attractions include 36-holes of deluxe miniature golf, slick track and family track go-karts; bumper boats, laser tag, water games, an arcade, family restaurant. Open year-round.
Grandview Cemetery
1900 W. Mountain Avenue (Taft Hill & Laporte Ave)
Phone: (970) 221-6810
One of most beautiful, historical cemeteries in the area featuring the graves of Fort Collins founders. Maps are available at the Visitor Information Center and the City Parks Office. Open dawn to dusk daily.
The Great Stupa at Shambhala Mountain Center
4921 County Rd. 68-C
Red Feather Lakes, CO 80545
Phone: (970) 881-2184
Praised by the New York Times, NPR and BBC, The Great Stupa is the most spectacular example of Buddhist sacred architecture outside of Asia. Filled with sacred art, the 108 ft. tall Stupa showcases Tibet's cultural heritage and is the jewel of RMSCs 600-acre campus. Also enjoy hiking, yoga, bodywork, meditation, gift store, good meals and comfortable lodgings. Open daily year-round with guided weekend tours. Call for tour times.
Larimer County Fairgrounds & Events Complex
Phone: (970) 498-7000
The Larimer County Fairgrounds and Events Complex opened in September 2003. The 243 acre campus will be the home of the Colorado Eagles, Larimer County Fair and many other events. Tradeshow space, large event catering, concerts and the like will all be hosted by this new complex.
Larimer County Parks & Open Lands
1800 S. County Road 31, Loveland, 80537
Phone: (970) 679-4570
Manages Horsetooth Reservoir, Horsetooth Mountain Park, Lions Park, Bingham Hill Park, Carter Lake, Flatiron Reservoir, Pinewood Lake, Ramsay-Shockey Open Space, and Devils Backbone Open Space. MasterCard and Visa accepted at Horsetooth main entrance and at Carter Lake Visitor Center. Parks are open year-round, 7 days a week.
Rocky Mountain Raptor Center
1 mile east of Timberline on Drake Road.
Phone: (970) 491-0398
A community effort for rehabilitation and release for injured birds of prey. Promoting the value of raptors, wildlife, conservation and environmental awareness. Open dawn to dusk daily. Free.
Swetsville Zoo
4801 E. Harmony Road
(1/4 mile east of I-25 on Harmony)
Visit this world-famous metal sculpture park containing over 150 creations. Open daily dawn to dusk. Self-guided tours. Free.
Terry Bison Ranch
51 I-25 Service Road East
Cheyenne, WY 82007 (35 miles north of Fort Collins on Colorado/Wyoming border),
Phone: (307) 634-4171
Email: terrybison@aol.com
Family-oriented working bison & guest ranch, RV park, and restaurant. Horseback riding and wagon tours. Open daily, call for seasonal hours. Gift shop open 6am-10pm (summer), 8am-5pm (winter).